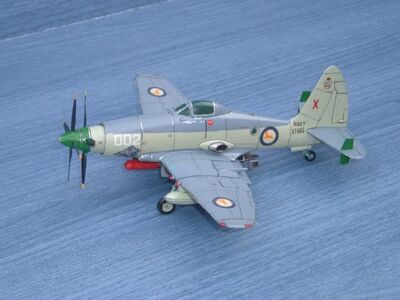 Westland Wyvern in South African Service
Operation Musketeer II 9-10 November 1956

Edit
The second stage of operation Musketeer, the seizing and holding of the Town of Suez and the Southern Canal began on the morning of November 9th with a combined assault from the Australian and South African navies with a carrier of each navy, HMAS Sydney and HMSAS General Botha respectively, providing air cover over the landings.
The town of Suez was seized by Australian forces after a 6 hour battle with the defenders and the canal itself seized and held by elements of the 10th Cape Mounted Rifles, supported by air strikes from HMSAS General Botha, which were instrumental in the confirmed destruction of several Egyptian SU100s.
AfterwardEdit
Despite US efforts in the UN (no Canadian support for their position in this timeline) the use of the UK and France's Vetoes meant that no resolution is adopted and that no cease fire proclaimed which could prevent the link up of the Anglo French from the north and the Australian/South Africans from the South near Ishmallia on the 12th November.
IllustrationEdit
The Wyvern is modelled after an aircraft on HMSAS General Botha on the late afternoon of the 10th November as it was just rearmed for a surface strike against the ENS Dhat Al Sawari, the last major naval unit not accounted for as yet.