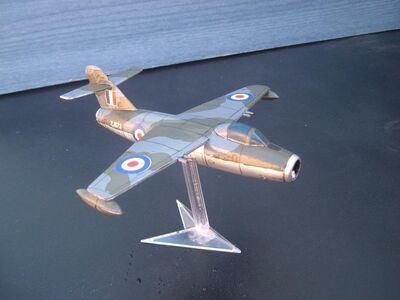 Vickers Supermarine Demon M5
Development

Edit
In 1944 the Air Ministry authorised Vickers Supermarine to build a basic fighter as a stop gap in case of the failure of the then current designs of Meteor, Vampire etc.
The design was put into limited production (130+) and issued to the fighter training schools of the RAF, numbers also went to the RCAF and were considered for production in Australia but nothing came of it.
IllustrationEdit
The Demon was armed with 4x20mm cannon and 2x12.7mm mg, it was upgraded into 5 marks with the final being modelled here. It depicts an aircraft of no 17 Fighter training school, used for dissimilar combat training and based at RAF Salisbury (Rhodesia) in 1960, the penultimate year of its service.