==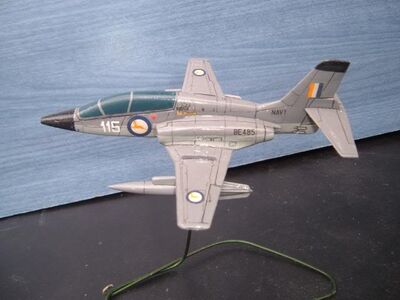 Union Aircraft Corporation See Onderwyser T2==

During late 1980 the Royal South African Navy issued a paper of intent concerning the procurement of a new trainer for the land based training squadrons of the RSAN.
The paper called for a two seat aircraft capable of acrobatic performance and with a limited secondary point defence capability, no search radar was specified but infra red search ability was called for. The document called for fuel economy and the ability to have the airframe updated was also written in.
The Union Aircraft Corporation (UAC) was the front runner, with the best airframe for the job and also the home grown product, initially the contest came down to a run off between the British Hawk trainer and the as was then UAC P3339. With both aircraft performing well in tests but the decision was made along financial lines to award the contract for 78 airframes to the UAC.
Called the See Onderwyser (Sea Teacher) in RSAN service and entering service in 1989 the aircraft had just replaced all other trainers in RSAN service before the 91 disaster, unfortunately none survived the attack upon Langebaanweg by cruise missiles fired by Cuban forces.