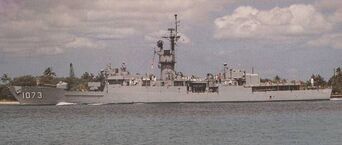 The
USS Robert E. Peary (DE1073
) was a Knox-class Frigate that served in the US Navy during
The '91 Disaster
. The vessel was the scene of a mutiny by members of the
Army of American Liberation (AAL)
.
The vessel was launched in 1971 and was the 22nd Knox-class vessel launched. She spent much of her career operating in the North Atlantic and deployed several times to Iceland during the 1980s.
The '91 Disaster
Edit
Upon the outbreak of hostilities the vessel was based at Goldman's Harbour in the state of Maine. The vessel was assigned to a destroyer flotilla of three ships lead by the USS Flatley. The flotilla's mission was to sail to Iceland and conduct raids against Commonwealth merchant shipping. The ships escaped Goldman's Harbour before it was hit by a British nuclear missile. Like all US warships the vessel had a contingent of Federal Protection Service (FPS) Agents onboard.
The Mutiny
Edit
Unknown to the senior officers a mutiny by members of the AAL amongst the crew was planned before the ship left harbour. The mutiny was launched prematurely however when an FPS Agent discovered AAL literature in a sailor's bunk forcing them to act. During the course of the mutiny several FPS Agents were executed in view of an SH-2 Seasprite helicopter launched from the Flatley to investigate why they had lost contact with the vessel.