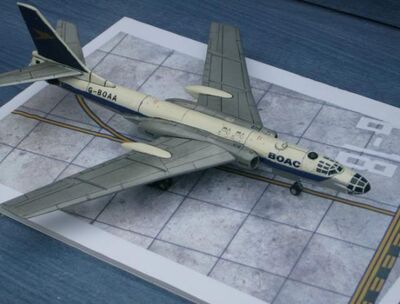 Tupolev TU16ks-1

Edit
The coup attempt lead by the 30 September Movement in 1965 changed everything in Indonesia and a new anti-communist regime from the Army, led by Major General Suharto, took power. Ties with the Eastern block countries were cut, and thus support and spare parts for the planes became short. By August 1968 the situation was critical, and in early 1970, the Air Force Chief-of-Staff, Suwoto Sukandar, said that the spare parts situation meant that only 15-20 percent of aircraft were airworthy

The MiG force made its farewell flight with a flypast of Jakarta in 1970. The relatively new MiG-19s were sold to Pakistan. By October 1970, only one Tu-16 was still flying, but after an in-flight engine failure whilst overflying the Malacca Strait and near the Singapore Border it made an emergency landing at Singapore, where it was impounded by the British authorities.
Incensed by this the Indonesians threatened to scale up the current ongoing confrontation to a full scale war if the aircraft was ever seen in any air force's markings but its own. As the RAF wanted to fly the aircraft for training and intelligence purposes but did not want a scaling up of the current draining but sustainable level of conflict a compromised was reached with BOAC.
The aircraft was sold to BOAC in lieu of debt incurred via airfield fees etc, and was repainted in BOAC colours but was leased to the RAF for use in exercises and operations when available.
As the aircraft had not flown in any other air force's markings and feeling rightly humiliated the matter was never again raised by the Indonesian regime. Kept in service right through the 1970s and 80s it eventually stood in outside storage in RAAF North shore where it stayed until it was broken up after the 91 disaster for much needed metal and electrical parts.