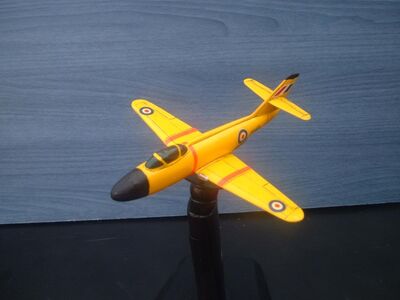 During the late 1950s and early 1960s the RAF newly equipped many of its aircraft with guided missiles, both infra-red and radar guided. A need was therefore self-evident for a cheap target aircraft rather than the ex-service surplus stocks currently used.
The Air Ministry opened up the tender for such an aircraft to mainly smaller manufacturers, and many smaller such concerns put forward brochures of intent. The successful tender came from Welsh Aviation based in the Swansea area.
The design was entirely pedestrian with a low wing and a small but efficient Rolls Royce turbojet and with a cockpit for when the aircraft needed to be piloted. The remote control equipment was housed in the front of the aircraft.
The aircraft, named Glyndwr, was the third design of the company but the first to enter production, and replaced the Meteors that the RAF had used so far. With the special frangible warheads of many missiles it was an integral part of RAF "live" weapons training for many years
Ad blocker interference detected!
Wikia is a free-to-use site that makes money from advertising. We have a modified experience for viewers using ad blockers

Wikia is not accessible if you've made further modifications. Remove the custom ad blocker rule(s) and the page will load as expected.