The
Osa-class Missile Boat
was a Soviet built fast attack craft designed for hit-and-run attacks against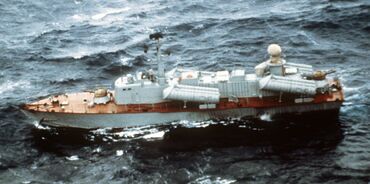 enemy shipping. It was widely exported to the worlds smaller navies most notably Cuba.
The Project 205 boats are bigger than the pioneering Project 183R (NATO: Komar class) boats, with a mass four times greater, and nearly double the crew. They were still meant to be 'minimal' ships for the planned tasks.
The hull was made of steel, with a low and wide superstructure made of lighter AMG alloys, continuous deck, and a high free-board. The edges of the deck were rounded and smooth to ease washing off radioactive contamination in case of nuclear war. The hull was quite wide, but the Project 205 boats could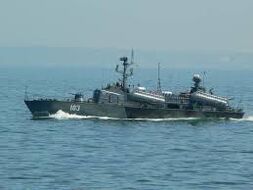 still achieve high speeds as they had three
Zvezda M503
radial diesel engines capable of a combined 12,000 hp (15,000 hp on Project 205U onward) driving three shafts. The powerful engines allowed a maximum speed of about 40 knots together with reasonable endurance and reliability. There were also three diesel generators. Two main engines and one generator were placed in the forward engine room, the third main engine and two generators in the aft engine room. There was a control compartment between the two engine rooms.
Armament comprised four SS-N-2 "Styx" anti-ship missiles and two AK-230 30mm Close-In Weapon System (CIWS).
Ad blocker interference detected!
Wikia is a free-to-use site that makes money from advertising. We have a modified experience for viewers using ad blockers

Wikia is not accessible if you've made further modifications. Remove the custom ad blocker rule(s) and the page will load as expected.