The Mitsubishi F1 Kyudo is a Japanese development of the Avro Arrow F.5.
==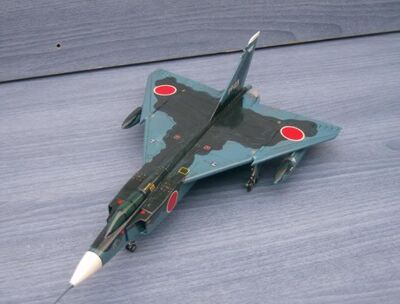 Design==
The upgraded Japanese version of the Avro Arrow was placed in production for the JASDF during the first quarter of 1975, containing a full suite of Japanese electronics and offensive weaponry, entering service in 1979 with the 2nd Air Wing (Chitose Air Base: 201SQ,) and spreading through Northern Air Command until production stopped in 1989 after 212 examples had been completed.
Service lifeEdit
Tasked with air defence the Kyudo was a regular site for Soviet aircrew trying to penetrate Japanese air space, and for American forces still operating from Japan.
91 DisasterEdit
War service during the 91 disaster was against Soviet and North Korean forces with an impressive kill ratio over both.