HMS Hermione
was a Leander-class Frigate of the Royal Navy. She served in both
The Cod War
and the Falklands War.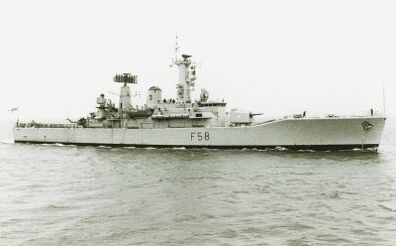 The Hermione IncidentEdit
HMS Hermione was involved in an incident during the early days of the Royal Navy's involvement in the The Cod War 1975-76.
The Battle of Jan Mayen
Edit
HMS Hermione was present at the Battle of Jan Mayen on 4th April 1991. During the course of the fighting she fired Exocet anti-ship missiles that hit and sunk the USS Wadsworth.
Ad blocker interference detected!
Wikia is a free-to-use site that makes money from advertising. We have a modified experience for viewers using ad blockers

Wikia is not accessible if you've made further modifications. Remove the custom ad blocker rule(s) and the page will load as expected.