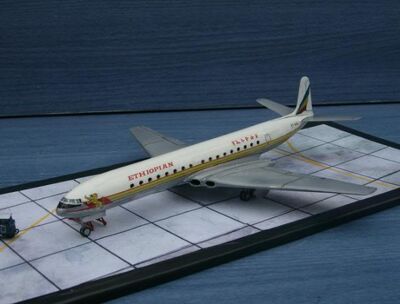 Ethiopean Air Lines

Edit
Ethiopian Airlines was founded on December 29, 1945, by Emperor Haile Selassie with assistance from TWA. It commenced operations on April 8, 1946, with a weekly service between Addis Ababa and Cairo with five Douglas DC-3 propeller-driven aircraft.
The airline started long-haul services to Frankfurt in 1958 and inaugurated its first jet service in January 1963 from Addis Ababa to Nairobi. In 1978, it changed its name from Ethiopian Air Lines to Ethiopian Airlines. In the early 1960s it provided some initial aviation support to the Ethiopia-United States Mapping Mission in its operation to provide topographic maps of Ethiopia.

Over the years it has operated DC3s, Vikers Viscounts, Dh Comets, Boeing 707s and 737s, Bristol Brittanias and Anatov 12s and 22s. with orders being placed before the 91 disaster for Airbus and Boeing products.
Since the 91 disaster much of the third world has desended into anarchy and local warlords have sprung up in many places around the world, however this has not been the case for Ethiopia and after many years of retrenchment and austerity the country has once again taken its place in the family of nations and airline sevices started around 7 years ago . It was and is wholly owned by the government of Ethiopia and has 4,700 employees.