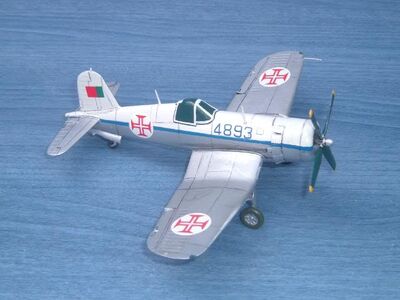 Força Aérea Portuguesa...3ª Região Aérea. Corsair F4U

Edit
After the end of the war many nations took advantage of the mass of war surplus around the world, Portugal was one such nation taking delivery of Spitfires, Thunderbolts, Harvards, Mosquitoes and Corsairs.
The Corsairs were dispatched to Mozambique to form the air defence of the colony and they soldiered on there until the outbreak of the Inserection in 1961.
The Corsairs operated in support of army operations and patrolled the colony's borders to help cut off the guerillas from the supplies being smuggled in from the USSR and China.
As the Corsairs only operated at the start of the campaigns in Africa they never received the later Green based infra red suppression finishes so common to later Portuguese aircraft.
The aircraft is modelled after an aircraft seen in 1961 at a forward airbase in the Mozambique bush .
Ad blocker interference detected!
Wikia is a free-to-use site that makes money from advertising. We have a modified experience for viewers using ad blockers

Wikia is not accessible if you've made further modifications. Remove the custom ad blocker rule(s) and the page will load as expected.