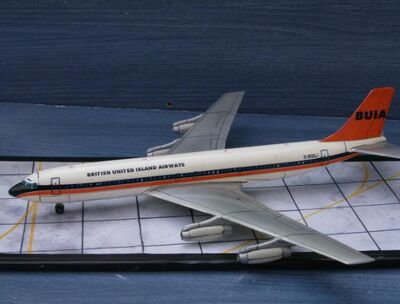 British United Island Airways

Edit
British United Island Airways (BUIA) was formed in November 1968 as part of a reorganisation of the BUA group of companies. It was a regional sister airline of British United Airways (BUA), Britain's largest wholly private, independent airline of the 1960s. It operated a network of regional, short-haul scheduled routes linking a variety of destinations within the British Isles and Continental Europe, including year-round services from both Channel Islands to BUA's Gatwick base.
BUIA's origins could be traced to the BUA group's acquisition of Jersey Airlines and Silver City Airways in 1962. BUA's management amalgamated the Channel Islands scheduled passenger and freight services of these airlines (named the Duchess Services by Jersey Airlines) and Silver City's northern division to create a single airline, BUA (C
BUIA's creation followed the BUA group's 1968 reorganisation. It involved merging the operations of Channels Islands based BUA (C.I.), Isle of Man based British United (Manx) Airways and Morton Air Services, operating a diverse fleet including Vikers Viscounts, ex RAF surpus Dakotas, and on it's flagship route from London to Paris Beoing 707's.