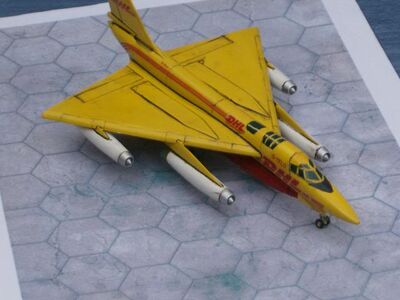 B-58A Hustler AF Serial No. 59-2458, the "Cowtown Hustler" as seen in the DHL advertisement campaign

Edit
On the 22nd of May 1990 a new DHL Global advertisement campaign started. It featured a yellow bomber aircraft transiting hostile airspace, mainly seen from the cockpit the advert featured the pilots defeating enemy countermeasures and flying to a tight schedule. After the aircraft landed (doctored real life scenes of real aircraft) a DHL wagon was seen to go to the bomber and mail was unloaded from the pod underneath the aircraft. The advert finished with a voice over from James Earl Jones "DHL...when it absolutely HAS to be there on time."
A real aircraft was leased from the USAF for the campaign, the B-58A Hustler AF Serial No. 59-2458, the "Cowtown Hustler" was an exhibit at the National Museum of the United States Air Force at Patterson air base Dayton, Ohio, and was only allowed to be used on condition that DHL paid for the restoration of 2 other aircraft at the museum. The aircraft was shipped to the UK and repainted at the DHL compound at the East Midlands Airport where the ground scenes for the campaign were also filmed.
The campaign was still ongoing when the 91 disaster happened as as such the B58 was never returned to the United States and requests to return the aircraft are rebuffed on a regular basis on the understanding that it is USAF property but at this time no USAF exists to claim it. Currently she is in the hands of the East Midlands Aeropark and is part of the public exhibit there.