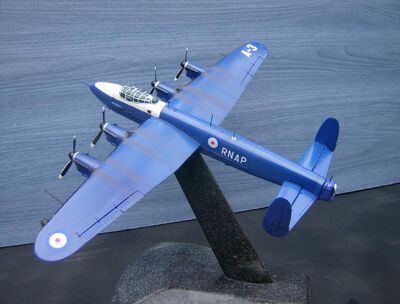 Avro Lancaster, Post war Foreign serviceEdit
LANCASTER MK III ( POLICE )

Edit
Before the Nigerian government had fully integrated its armed forces into The New Commonwealth after the Biafran successionist war in 1967 it first of all formed a fully national police force.
This police force was granted a royal warrant by Her Majesty the Queen on October the 4th 1967, included in this new national police was the an air wing and a maritime wing, and on strength of this air wing was a Lancaster, a gift from the Republic of France. In fact this was believed to be the last operational Lancaster in the world.
The " Blue Whale " as she was know served the Royal Nigerian Air Police in the anti smuggling and search and rescue role until 1976 when she was sold to a collector in Arizona where she was restored, though her whereabouts today are unknown following the collapse of much of the USA after the 91 disaster.