The
Avro Canada CF100 Canuck
was a large twin engined two seat jet nightfighter developed in Canada in the

1940s. It was exported to Australia, France, Rhodesia, South Africa and New Zealand.
Development
Edit
The genesis of the Canuck came about after World War II when Canada needed a jet powered nightfighter that was tailored to its unique needs. It had to be blessed with long range to cover the vast territory of Canada's wilderness. The aircraft featured a large straight wing with two engines housed in pods along the fuselage. The design led to it being called 'The Lead Sled' by its pilots.
Commonwealth Operators
Edit
New Zealand
Edit
The RNZAF flew a handful of aircraft delivered between 1951 and 1952. They were primarily operated in the north of the country where they flew maritime air defence missions against roaming maritime patrol aircraft. Later in their careers they were used over Timor to protect Humanitarian missions. They were withdrawn in 1965.
South Africa
Edit
South Africa operated a sizable fleet of CF100s and like the New Zealand examples they were primarily operated

over the sea where their range allowed them to roam far from base. In the early 1960s the fleet was modified to carry
Red Top AAMs
thus increasing their potency. They were all withdrawn by 1970.
Rhodesia operated a single squadron of CF100s and they operated exclusively as night fighters. In 1965 a single example shot down an intruding AN-2 that was trying to smuggle weapons into the country from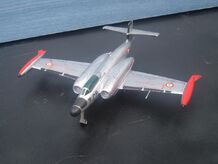 Zambia.
Non-Commonwealth Operators
Edit
France operated a number of CF100s under the name Arcadian's Chasseur Tours Climats. 58 were ordered by the French Air Force mainly to help the Canadian aircraft industry after the fallout from the formation of the New Commonwealth resulted in cancellation of US and NATO orders. They continued in service until 1968.